While many agree on the importance of economic policies, creating jobs, and stimulating growth, a divisive line exists on the increasing activities of countries hiring foreign workers in foreign vendor nations. Outsourcing jobs offshore has been the bane of global dynamism where western countries like the United States and the United Kingdom have taken advantage of developing countries to host a number of jobs. This global trend can be traced back to the rising costs of setting up companies as well as costly labor affecting their productivity and growth.
During a State of the Union address, Former US President Barrack Obama declaimed: "No, we will not go back to an economy weakened by outsourcing…". But in reality, many have kept mum on offshoring because it is largely practiced in private but heavily criticized in public discussions.
Global businesses have been subjected to much scrutiny with questions aimed at their positions on the purpose of outsourcing and offshoring, global standards and assistance for displaced workers in labor markets of these western nations. The long debate on this has given way to a number of "must-do's" for companies moving their businesses abroad in the face of responsible outsourcing and offshoring.
The Purpose. Companies are compelled to step up and explain why they prefer to outsource business process operations and employment offshore.
This should stand competitively for products and service activities to be truly acknowledged as part of the global economy. The most resounding reasons stated are:
Staying cost-competitive with companies through reduced product or service costs or through supply chain management.
Significant employment, office, plant and equipment presence in the vendor host country
Strengthens the market's economy and in turn, increases US exports
Attracts local talent for jobs that would never have been available in the US
Products imported back to the US benefit consumers and the economy due to lower costs.
Revenue and Margins. In the same manner, companies that have taken the outsourcing route offshore are bound to forcefully explain the revenue and margins they acquire from offshoring in comparison to competitive cost structures locally. Cash from high revenue and margins are funneled into improving their operations, their productivity and technology, which in turn also improves their products and profitability. A well-run offshore business funnels only a small percentage of its cash from profits into executive compensation.
Conditions Of Working Environment. One of the most argued points against offshoring is that multinational companies who move their operations abroad to emerging markets do this to avoid having to comply with regulations on safety, health and environmental policies that are required in developed western countries. International companies have responded to this by setting policies that assure outsourced employees enjoy decent workspaces overseas whether these spaces are set up by the company or its third-party supplier. The notions of sweatshops and child labor as well as prison laborers working long hours for unfair wages are a thing of the past. Offshore companies have now placed much value on living and working conditions, worker safety, as well as compliance with environmental standards. Human Resources also ensure non-discrimination and non-harassment of all employees. Such policies are based on local law standards or on standards that these multinational companies voluntarily adopt.
Policies are implemented through systems and processes such as education and training, leadership development activities and ensuring suppliers follow all protocols. Sanctions are strictly imposed on suppliers who violate these policies and standards. Independent third-party auditors come up with regular reports that break and force companies to adhere to such regulations.
Quality. Global companies need to offer quality services and products that come from overseas. With the globalization debate, products coming from overseas need to adhere to strict quality standards as safety and quality concerns are always on the table for scrutiny. One example of this is lead paint found in toys or certain products found to be tainted with ingredients that are considered to be unsafe for children or human ingestion. End- users of these imported products have led to questioning the standard of quality of such manufactured products abroad that go against standards within their country. Companies are now obliged to address these concerns if they want a competitive global market to be embraced.
Worker Transition. American multinational companies have been quite vigilant in balancing their sheets especially when it comes to paying employees decent severance, job training and placement services for workers who become displaced in the US. These company-specific efforts are coordinated with safety net programs provided by the government which aims to help workers go through training, job placement, healthcare and income support when they get laid off due to the adaptation of international trade practices by companies.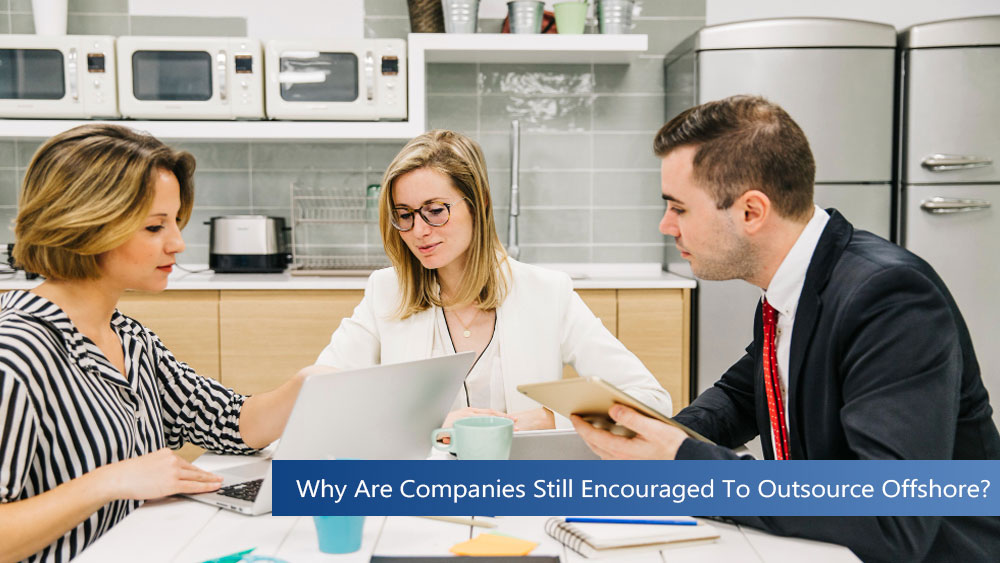 Businesses that choose to outsource offshore are not generally frowned upon, in fact, they are still encouraged to do so because the industry still greatly provides benefits to certain businesses. The effects of outsourcing can be positively felt in certain industries such as:
Western Market – businesses that run operations efficiently despite an onslaught of calamities in their home country are still able to provide services and products that allow the economy to flourish.
Vendor Countries/ Host Countries – developing countries who are tapped for outsourcing services gain improved economies through employment opportunities. Most often offshore companies offer good
employee benefits and incentives to a workforce. Moreso, equal job offers are open to anyone regardless of gender, social status or educational background.
Global Economy – offshoring companies help minimize tariffs and fees when they work with a foreign host country. Offshore investments minimize red tape when foreign workers are hired. This in turn breaks down barriers allowing more countries to connect and establish a vast network in the market as well as it provides more room to move.
One thing is for sure, companies involved in outsourcing and offshoring across the globe are equally challenged to defend themselves from further scrutiny. Responsible offshoring and outsourcing in international markets is essential to discourage a distorted and misunderstood business practice.
Overseas business is a fundamental part of our economic future. Global competition is inevitable. However, the new generation of corporate powerhouses is armed and ready to defend themselves against an ill- favored notion about outsourcing and offshoring. At EVS Staffing, we can assure you of responsible and ethical outsourcing practices in all our offshore partnerships. Why not give us a buzz and find out how we can help you move and stay ahead of the competition with our virtual staffing solutions?