A career-driven woman who becomes a new mom experiences a different kind of stress that stems from a multitude of reasons such as fear, and lack of confidence… let alone lack of sleep. While some family structures can afford a stay-at-home full-time mom, others have no choice … or still choose to continue their careers. Working mothers struggle through the juggle, knowing they can't prioritize one role over the other. 
Finding the balance between work and family life can be the most elusive goal for working moms as the need to provide for family and actually taking care of a family are two different things. 
But in these times, people seem to make a significant shift to working from home and utilizing the power of technology to their advantage. One can survive hauled up in their home for months without the need to step out to buy the basic necessities due to increased growth in online services and virtual apps that connect people and businesses through the internet and smart technology.
Many working moms have grabbed this opportunity to work from home knowing this could allow them to look after their families and still earn good money to put food on the table. 
However, one of the biggest challenges for moms working from home is knowing when family overlaps with work and when work overlaps with family, since the distractions work both ways when one works and lives inthe same space.
This brings us all back to square one. 
 Mompreneurs are slaying it out there! But despite the benefits that have entitled business-minded moms to a new sense of freedom and flexibility, they can always use the extra help.
But then, hiring a personal secretary can be quite expensive. Working from home means one may not have much room for a secretary. The point is, working moms always feel they need to do everything on their own. Truth is, they don't have to. Roll in the virtual assistant! Hiring a virtual assistant isn't just for big businesses and companies. A virtual assistant is a godsend for career moms who need a break from the repetitive tasks that take up a lot of their time when they could be doing something more productive.  VAs can provide this and then some. What's more, they generally come at reasonable rates, too.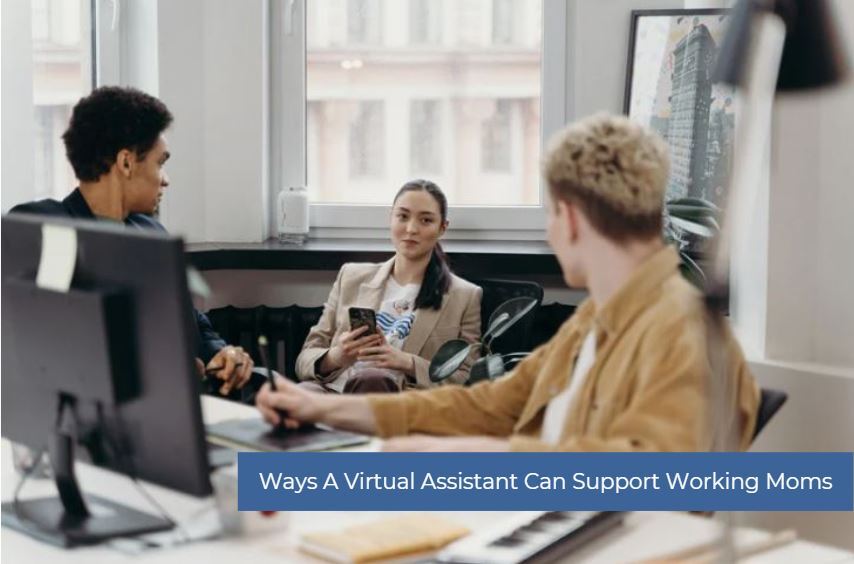 Three Ways A Virtual Assistant Can Support Working Moms
Unburden Your Workload On Rough Days
This can ring so true for pregnant women and new moms who often find themselves winded and battling all sorts of hormones and bodily changes. Rough days can leave the toughest of women feeling tired, drained and sleepy all the time. Getting sick is a part of life. But an efficient virtual assistant can keep the wheels turning and would not usually need much instruction to carry out tasks you may not be able to do when these days hit hard.
Bottom line is, productivity doesn't need to take a back seat when even when you're not driving A reliable virtual assistant is just as good as your own personal co-pilot.
Tackle Repetitive Tasks That Take Up Time
Running a business requires a lot of mundane tasks that can keep you tied down from doing productive stuff. Virtual assistants often come with solid experiences and skills for just about anything a business owner needs. From answering phone calls and emails, data entry, IT, bookkeeping and even social media management. 
A boss lady often does not have the time and energy or focus to keep doing what she does best and still manage to keep up with these daily repetitive tasks. A trusted VA can certainly fill in and provide much-needed confidence and peace of mind knowing things are being taken care of.
Encourages Flexibility And Work-Life Balance
Flexibility often comes with sacrifices, but with a skilled VA, a working mom no longer needs to be saddled with a 9-5 workday. Virtual assistants can work around specific schedules and are always there when you need them. While many VAs work from a different country, one can take advantage of the time zone difference. This means they can work while mompreneurs dream sweetly and have everything done when they wake up.
Key Take Aways
Working moms are warriors to be reckoned with on any day. But they too, need to live life. Virtual assistants are not just for those running a big business. VAs can help mompreneurs and work-from-home career women who can't get a break from their daily grind. Skilled virtual assistants ease the workload and allow them to achieve a much-coveted balance between their careers and family life.
Would you like to find out how our roster of highly qualified virtual talent pool can make a busy working mom happier and saner? Book a free consultation with Elite Virtual Staff today and we'll tell you how to get started.