When a company is at a point of growth and transition, productivity and operations efficiency plays a crucial role. This may find you needing a lifeline to bring your company up to speed so you can push forward without having to wait that long to get a return on investment. A business owner needs to weigh in on specific business processes that can be outsourced through virtual staffing services and avoid dragging operations that cost more time and money. Let's take a gander at the various virtual services in the market that can help scale your business.
What Drives The Need To Outsource Tasks And Hire A Remote Workforce?
The bones of every business are set on certain operations and processes that can be tedious and time-consuming. Most often, in-house employees end up juggling multiple tasks that can get in the way of their actual jobs. Such ambiguity interferes with productivity and can cost more money. Taking the virtual road can prove to be the best decision a business owner can make to eliminate redundancies and enable staff to do what they do best.  Hiring virtual assistants is the most cost-effective investment in growing your business. A virtual workforce can tackle mundane, repetitive tasks which free up valuable time and resources.
The right virtual assistant can efficiently drive your business productivity to desired results. Their skills, whether general or specifically tailored to the task at hand provide extra mileage especially when they share and collaborate with people who commonly understand what needs to be done. A virtual workforce has the potential to grow your business without the need to spend on resources and assets.
Selecting the Right Virtual Assistant Is Crucial
The right candidate for the tasks you've chosen to outsource should bring with them the required skills and experience. A virtual assistant who can understand the nature of the task and at the same adapt well to the environment and the entire business culture is the perfect candidate for you. Your chosen VA should have a sense of dedication and become invested in the long-term success of your business. Skills are one thing but without dedication and loyalty, their skills may not be used to their full potential. You want someone who has the desire to learn and grow with your business.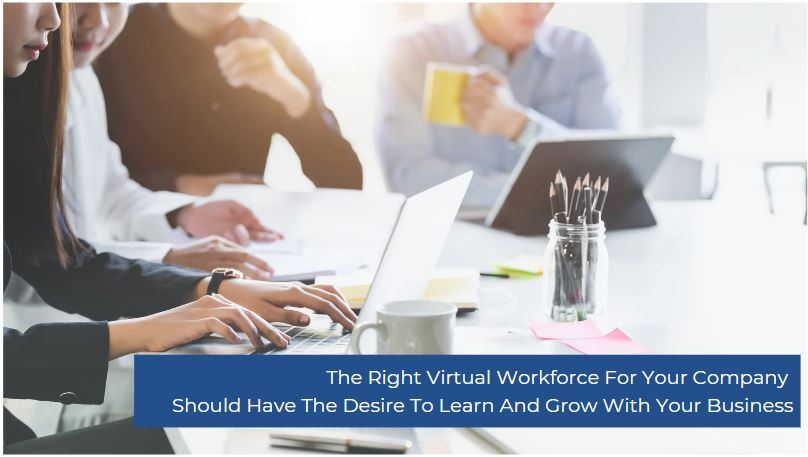 Creating A Hiring Strategy
The first step in choosing the right virtual assistant for your business is sitting yourself down for some self-reflection. The entire decision-making process involves a whole lot of you. Analyze what you need help with and know which tasks and in what capacity you are willing to delegate these to a total stranger who could be living halfway across the globe. Ask yourself if you are willing to share some aspects of your daily life, such as your schedule, your contacts and your emails.
Here are a few questions you need to ask yourself for starters:
What tasks do you need to delegate? List down all the tasks you generally need help with. Start from the most basic of chores to the biggest and most tedious management jobs.
Will the tasks be a one-time deal or an ongoing project? Doing this will help you determine your timelines and your budget with the knowledge that you know exactly how long you will need the services of your VA.
What is your language preference and proficiency? Language barriers can significantly impact the quality of service you may expect from your VA. If the job you need help with does not require much communication, you may opt for someone who is not a native speaker of your language. However, if you require much verbal exchange then hiring a VA who fluently speaks your language will go a long way in building your working relationship.
Do you need your VA to work in the same time zone? Because virtual assistants are generally remote workers who could be living in a different country, you need to determine if you want them to keep the same work hours as you to accommodate your needs or if they can accomplish tasks at any time of the day or night.
What qualified skills do you need? As you go through the list of tasks you need help with, categorize them into skill levels. Which ones require general administrative skills that can be done by a VA with entry-level experience or if the tasks require someone with specific certifications or a VA who is tech-savvy?
Dealing With The Other Stuff
Once you've nailed down the answers to the question above, it's time to dig a little deeper and learn the rudiments of hiring a remote virtual staff. Keep in mind that if you decide to hire a virtual assistant on your own, you're going to do all the dirty work of recruitment, payroll, project and employee management and verifying references.  Freelance VA or independent contractors work on their own while some may also be recruited by a virtual staffing agency. Most often, if you're working with freelancers you may need to procure tools that can help you communicate efficiently with your VAs, as well as track projects or set up payroll systems. A virtual staffing agency can provide you with all these. They can even train and onboard a full remote staff. All you need to do is be the boss.
Making the right choice
After going through the grueling process of self-reflection, making the right decisions will be the first step to your business's success. It is time to put these decisions to the test. At this point, you should have a clear understanding of you what you need and the kind of VA you want working for you.
Remember that there are always risks to be considered but choosing the right candidate can allay many of your fears and limit potential risks.
Key Take Aways
Making sound business decisions is essential for growth. Knowing how to ascertain your needs and limitations can set you up for success as this leads you to make the right choices. Hiring a freelance virtual assistant or acquiring one through a virtual staffing agency can definitely be a game changer for your business. Tap into your growth potential and discover what EVS virtual staffing solutions can do for you. Stay connected with us by contacting our team to know more about our valued virtual assistant staffing services.